At this point, I'm uncertain if I'll ever learn Spanish.
Maybe I'm overstating this. I'm known to be a bit dramatic. But Jesus. Learning a language takes a long. fucking. time.
Since the beginning of 2018 I've put in 450 recorded hours. That, of course, is not even counting the 3 years in high school (which to be fair was over 20 years ago). There was also a pile of practice in between. I seem to remember completing the first 30 lessons of Spanish Pimsleur at one point. I'd say I'm at least 600 hours in over the lifetime.
To be fair, I'm probably more competent in the language than I'm making out. I can order coffee and do this and that. In reality, I can hold a halfway decent conversation with another speaker, as long as the subject matter is trite. Stuff about their day or family. But! I can't have those detailed, meaningful conversations that I consider "fluency." And that goes not only for the making of words with my mouth hole but also understand what the hell the other person is actually saying to me (probably more important). I mean, that's kind of the point of a language, right?
I get so annoyed when I see advertisements for "learn a language in 7 days", "Learn Spanish in your Car", all that kind of bullshit.
But all hope is not lost. I'll just keep at it, and hold to the advice of Steve Kaufmann, "learning a language takes a long time."
Language Learning Stack
In case you were wondering, here's all the tools I've been using as of late in my language pursuits. Not saying it's good or optimal. It's just what I've been doing.
LingQ: I love this thing. It's 10 bucks a month and lets you read listen and track your progress
Anki: Flashcards with spaced repetition. I've used many methods. I like the fluent forever technique but also do basic translations.
FSI's basic Spanish: I put the phrases from the dialogues in Anki and then do the recorded lessons in my car. It's a decent system.
Netflix: I watch Spanish TV shows with Spanish subtitles. They really have been releasing a ton of native Spanish content, as well as several other international titles. I prefer things that were originally recorded in Spanish, but you can also watch all their original Netflix shows dubbed in Spanish; however, while the gist will be the same, often the subtitles and dubbed language won't line up word for word.
What I've used in the past
Race Report – Austin Half Marathon
How'd it go? Hell if I Know.
I skipped it. Not really happy about it either, but what are you going to do.
So a few reasons why I skipped it.
Wife: I had actually signed up to pace my wife, but she got a stress fracture in her foot, so she was out.
ITBS: My knee was still feeling wonky. I wasn't entirely sure how bad it was until I went for a run the last Monday, and like clockwork, the pain came 1.25 miles in. So I guess it was good I skipped. I'd been doing a ton of hip mobility exercises and foam rolling. But, a road race? That'd probably beat it up pretty bad. At this point, I'm just trying to mitigate. I still hope to get my 1,200 miles on the year, but Strava tells me I'm running behind. So, gotta get healthy and back at it.
Trail life: I'm just way more into trail races. There are fewer people, less parking hassle. Less unfriendly intensity. I don't know. I was gunning for a 50k in early April. At this point, I don't know if that's still on the docket. I certainly want to get some racing in the 2nd half of 2019.
In fact, I'm really hoping to compete in the Texas Trail Championship this fall. Whether or not that will be in the ultra or trail division, I just don't know at this point.
Still, I would have preferred to run a race I signed up for. But for now, I sacrifice a 100 bucks to the marathon gods, and live to run another day.
What I'm doing now
Just a ton of exercise bike.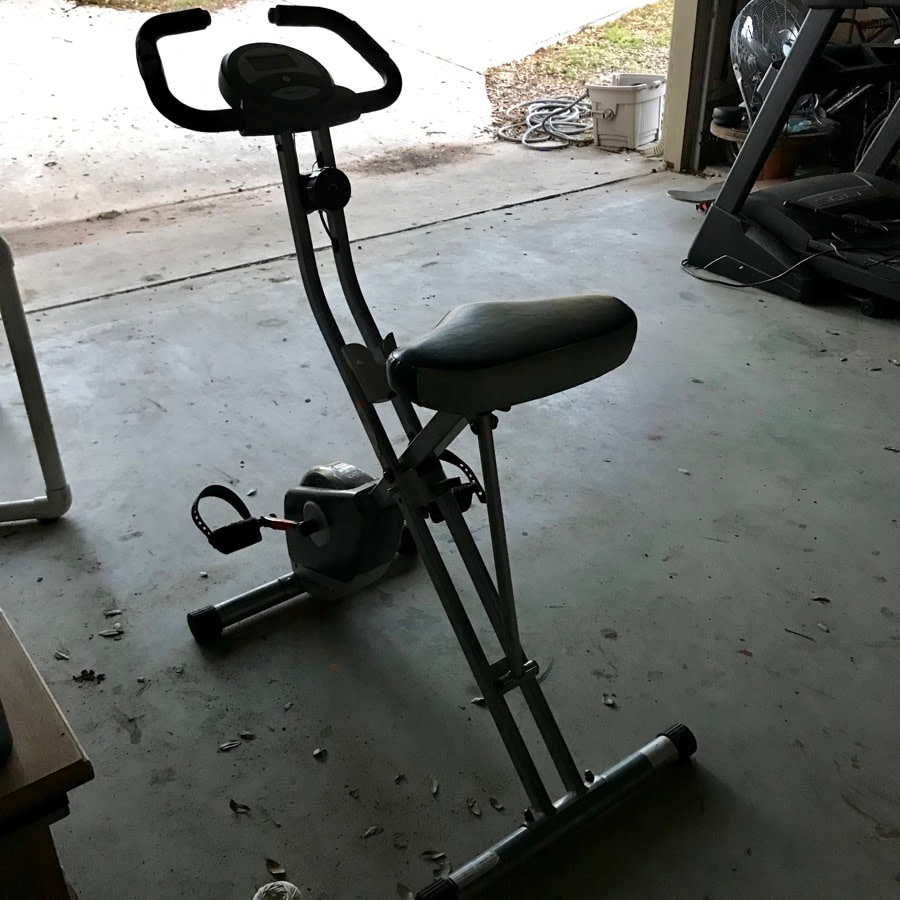 I hate it. It makes my quads feel weird, and it's never as exciting as running. But, I do just get to sit there and watch my Spanish Netflix (2 birds, 1 bike).
We'll see if my fitness holds up. Maybe I'll try some walking on the dreadmill too.
Ugh, painful.